The following article is by a candidate, Asmar, who received funded Master's admission offers and multiple acceptances from top tier U.S. universities. He wrote this guide to help aspiring students. Asmar has multipleacademic Gold Medals, at university and college level, and was the recipient of the prestigious Mehdi Ali Mirza award for the best architecture project across Pakistan.
Roadmap to US Admissions by Asmar
Hey guys. Firstly I'd like to wish QUVA best of luck for the marvelous work they're doing and undoubtedly Pakistan needs more of such institutions who are willing to serve platforms for the talented students of Pakistan who get their talent who are stuck in responsibilities and eventually get wasted doing highly underpaid jobs. As we all know that situation of jobs in Pakistan is not so good until you get into a good MNC or you takeover your dad's business. I highly encourage everyone to utilize their potential and apply to every single scholarship that is available on the internet. I know many of us think how would I get a scholarship with such a low profile but the truth is that you have to build your profile around the strong points and slightly cover the negative ones. HIDDEN OPPURTUNITIES ARE WAITING FOR YOU JUST AROUND THE CORNER!
Introduction:
My name is Syed Asmar and my profile is as follows:
Profile: Cgpa: 3.49/4.00 B.Arch (Gold Medal + Mehdi Ali Mirza award)
A Level: 1A* 3A's (Gold Medal)
O Level: 8 A's (Gold Medal)
Ielts: 7.5
GRE: 311 (Q:160 V:151 AWA:4.5)
1 year work experience (Largest Architectural company-Projects: Borders, Bank, Mall, Islamabad Airport)
8 academic projects
No research publication
International internship: Beset Architectural Corporation, Izmir, Turkey 2014
Elected as an International Delegate to represent Pakistan at the University of Rabat & Al-Akhwayne university Morocco
Many extra-curriculars with Medals & trophies
Going to USA for masters studies is a long journey and you should start preparing your timeline at least 6-8 months before. These should be some of the most important pointers while considering graduate admissions:
ACADEMICS: Right from your primary school, every small transcript matters
Statement Of Purpose: Very important part of the application to prove yourself.
Letter Of Recommendation: Extremely important part of the application where you get endorsed by the professors
GRE: Most of them want you to be above the cut-off range. This range is variable according to the type of program. My program being Architecture had lesser average GRE scores and they were more inclined towards Architectural Projects, Portfolio & Work Experience
CV: Every piece of information in your life should be there in your CV. Always elaborate in pointers the responsibilities you had in a particular internship, job etc. Put in any community work, startup or managerial work. Remember USA is always looking out for future leaders and your CV might serve the purpose to exhibit your past struggles.
AWARDS & HONOURS: Every graduate application always has this portion. I received the Architects prestigious national Award – Mehdi Ali Mirza Award 2016 so it was a big plus for me. The award can be of any type basically, can range from a small sports award to an international level award. Remember never miss out anything. You never know what captivates the Admissions Committee's attention
EXTRA CURRICULARS: Extra curriculars are always appreciated in the U.S. They may forgive your bad grades based on your extremely amazing sports profile
Taking GRE
The first step of your ladder is to give the GRE exam. Many of us are always too afraid to give the GRE as we get busy in jobs and other responsibilities but believe me GRE is not as tough as it seems to be. The exam tests your aptitude solely and if you can prepare smartly you can score a decent score i.e 310+. You should not score less than 300 and if you do you should always consider retaking the exam. I studied for only fifteen days and QUVA helped me effectively utilize those 15 days very smartly. As I am an architect I was away from mathematics since 6 years after my A Levels but I still managed to get a decent score in my Quant. This made me realize that I might have scored more if I had more time. Although some us think of not retaking due to the fees but you should see how the score would eventually save you so many dollars when you receive admissions or scholarships when you add a decent score to your profile.
o For GRE you should consider ETS Official guide as the bible. The level of difficulty is exactly the same. You should do the power prep mock and also if you can do buy the Power prep plus II mock. I found some questions which are almost the same as power prep plus II mock on the ETS website
o Wordlists: I used Magoosh decks majorly for learning. Try to use the words in sentences to memorize them. Memorizing words give you a lot of confidence while doing the text completions.
o Mocks: I did KAPLAN mocks which were available online. QUVA helped me with 6 manhattan mocks. Although they are a little tougher but they were extremely good for preparation.
Princeton mocks were also very good especially I loved the part that they even evaluated the AWA score. I scored 5.0 in the first AWA, 4.0 in the second and 4.5 in the third. In the actual GRE I scored a 4.5. After you submit your essay at Princeton they take 2-3 days to check your essay and then send the feedback with the score to you. If anyone needs the Princeton mocks can also contact me.
o Manhattan 5lb Book: I found the Manhattan 5lb book the perfect source to do Quant practice. If you have problem in a certain topic simply go to that topic and start doing all the questions. By the end of it you'll completely understand the core concept.
o AWA: For AWA I read essays from the ETS essay pool and watched the videos from Magoosh. Magoosh was fairly simple and exactly to the point. Princeton mocks helped me evaluate my mistakes in AWA.
If you have a low CGPA but good overall profile GRE is the chance where you can prove to the admissions committee that you have the aptitude and you messed up your grades due to other reasons. Also keep in mind that GRE is not the sole determinant. U.S admissions committee is always looking for a complete package with the right amounts of ingredients.
SHORT LISTING UNIVERSITIES
After you have given GRE you know where you stand. Start looking out for universities. Okay so how to look for a program and universities. These are the factors you should consider:
AREA OF GOOD EMPLOYMENT IN YOUR CHOSEN FIELD: Talking about shortlisting universities you can start off by looking at the employment payscales from google in various states in the USA. Obviously California would require many more CS graduates and the payscales would be higher than other states but the living costs are also high. Some of us have relatives in a specific area so we choose that area to live
.
PROGRAM LIES UNDER STEM FIELD: STEM means (Science, Technology, Engineering and Mathematics) and all the programs under this mean that U.S needs these people. Secondly STEM programs get an Operational Training Visa for a total of three years while the other programs get an OPT visa of one year and after that you have to apply for an H1B visa. Complete list of stem programs is available on the internet.
CHECK THE NAAB WEBSITE (ONLY FOR ARCHITECURAL BACKGROUND CANDIDIATES): To get a complete list of all the universities that are accredited schools of architecture you need to go to the NAAB website and enter your desired state. You would get access to all the schools which would have the architecture departments.
JOIN STUPID SID ON FACEBOOK: StupidSid is basically a platform which has all the candidates aspiring for Masters in US. Every year a new group on facebook is made which is majorly Indian and people upload their profiles and seniors mostly help. So you would soon get to know good universities through stupid sid on facebook. You can upload your profile to get feedback from seniors in the following format:
Profile Evaluation Request for Fall 2018
College/University:
Branch:
Field of Interest:
Degree Goal (MS/Ph.D.):
GPA/Percentage (Do not Convert to US Scale):
Topper's Percentage (or GPA):
Your rank in your class:
GRE: (Q – | V – | AWA – )
TOEFL/IELTS: —————————————————————————————————–
Internships 1) 2) . . ————————————————– ——————————————
Seminars//Workshop (If applicable): 1) 2) . . ————————————————————
Industrial Trainings (If applicable): 1) 2) . . ————————————————– ———–
Projects (If applicable): 1) 2) . . —————————————————————————–
Accepted Publications (If applicable): ——————————————————— ———-Recommendations: (State as Weak, Moderate or Strong) 1) 2) 3) ——————————–
Universities Shortlists: (If you have shortlisted any) 1) 2)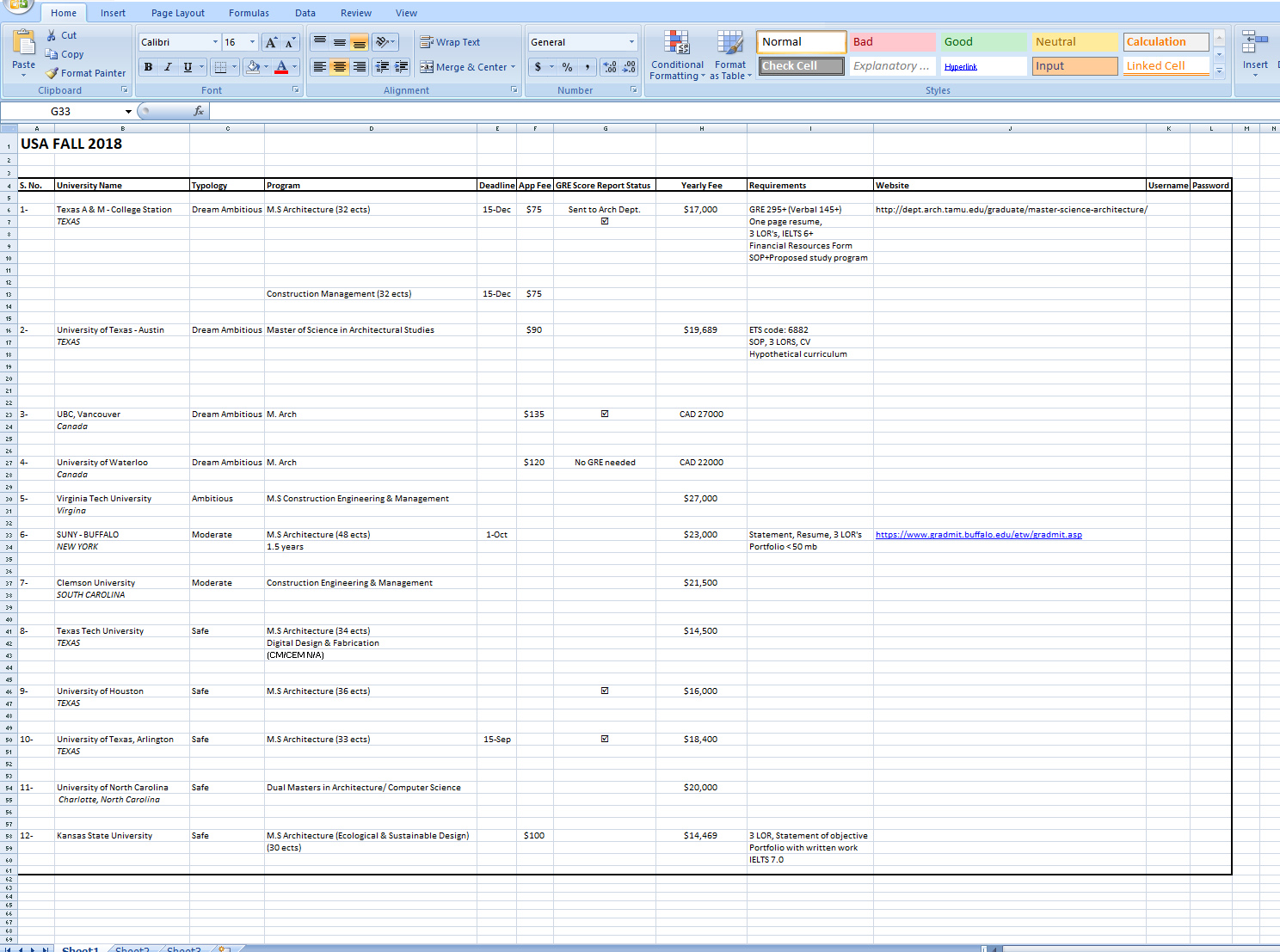 WRITING Statement of Purpose (SOP) and Letter of recommendation (LOR)
Now that you have shortlisted your universities you need to start browsing their website in detail especially your program. See the professors over there and their works. Look for what are they asking for in the Statement of Purpose (SOP). You have to be very specific about the statement and never repeat the facts you have in your CV as they've already went through that, which is why they asked for your CV. They need something new in your SOP regarding the programme, your intentions, your thesis project, any interesting life event that might be related to your future studies any obstacles that you overcame IT CAN BE LITERALLY ANYTHING BUT REMEMBER IT HAS TO BE INTERESTING!
For LOR's start contacting professors who know you very well and would be happy to sign a letter. Always write the first mockup yourself and then take it to the professor for amendments. Also do look for credentials, they matter! A Ph.D would be good if he agrees to give you a good letter. Go to the dean and HOD of your department. Remember getting LOR's is a hectic process but this weighs a lot in your application.
Best of Luck!