Interested in GRE and Graduate Admission Discussions? Join our facebook group.
The Fulbright scholarship was recently announced and, naturally, a lot of students are curious about the documents they need to submit and the tests they need to attempt in order to be eligible. Essentially, there are just six things you need to submit. They are:
You can use the above points as a checklist. The Fulbright application is available on their website. The document below addresses some of the FAQs regarding each of the above-mentioned points and a few other important queries.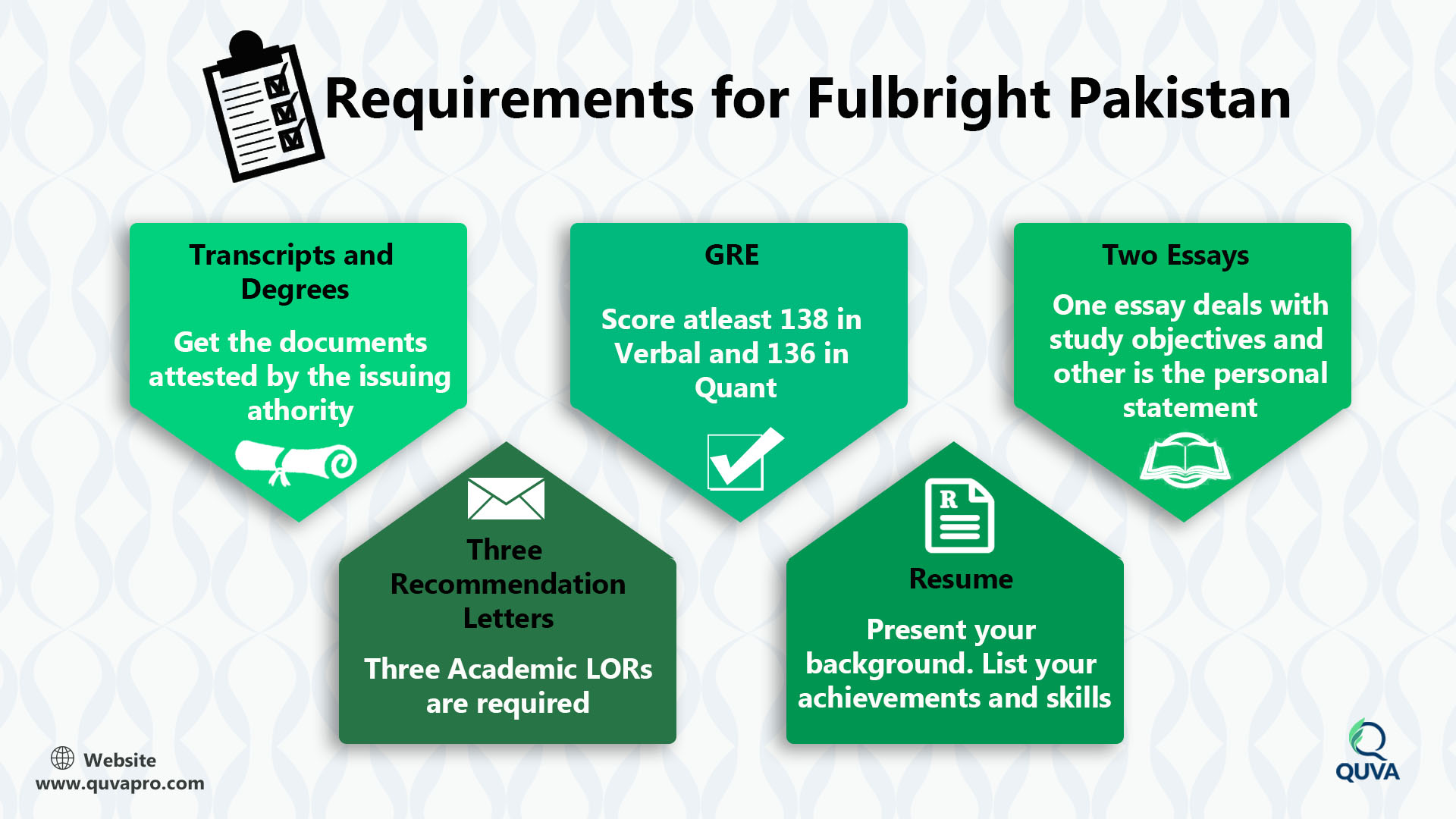 Transcripts and Degrees
Usually, the one question that immediately comes up after listening to this requirement is whether the transcripts need to be attested by HEC or not? The answer is not initially. You can simply get the documents attested by the issuing authority (university) and submit the application. If you get selected for Fulbright scholarship, Fulbright will ask you to submit attested copies.
GRE
The GRE General test is required for Fulbright application and you need to score at least 138 in verbal and 136 in quant to be considered eligible, though you should definitely aim for a much higher score. You don't need to take the GRE Subject test or GMAT to submit your application.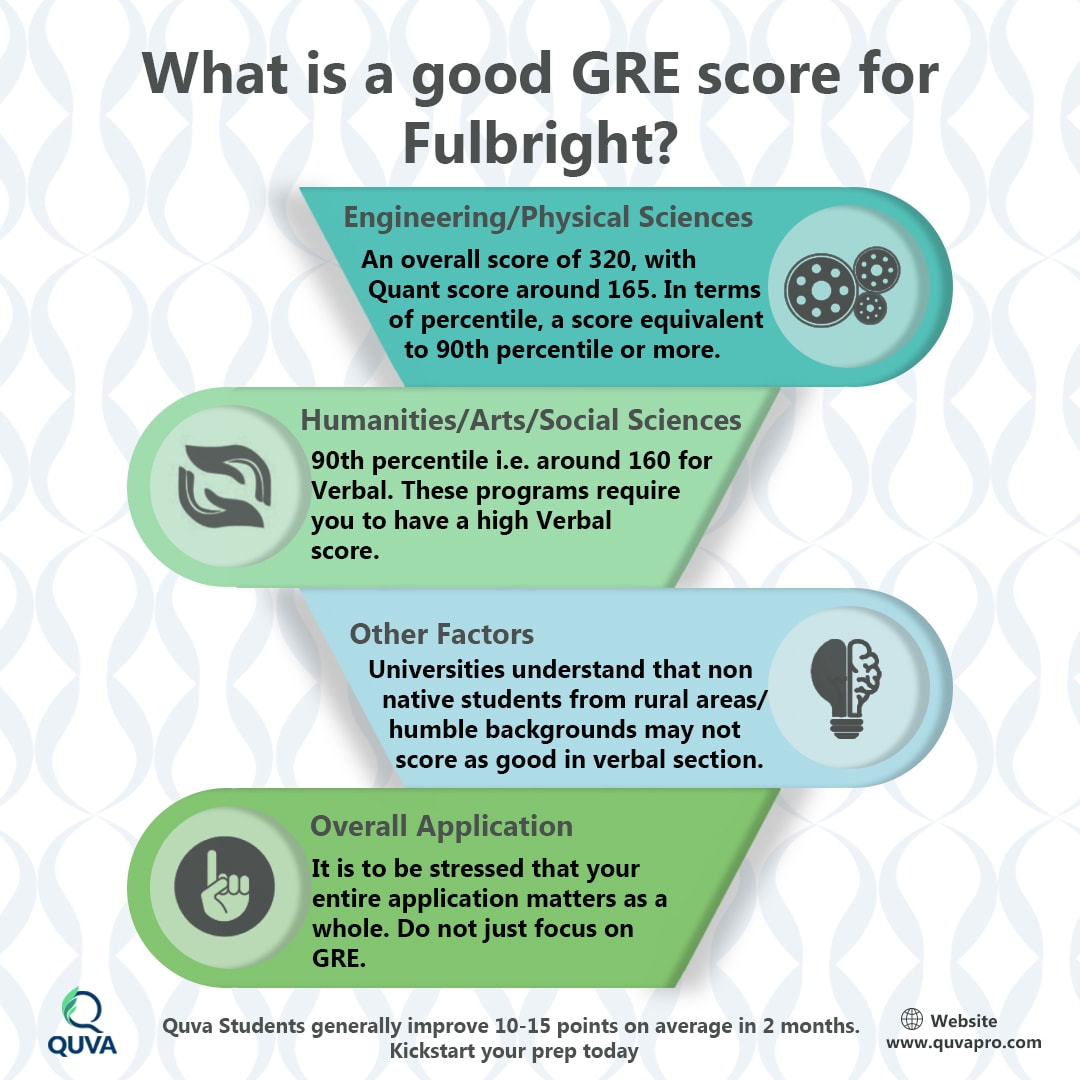 When should I take the GRE for Fulbright?
Contrary to general misconception, you can take the GRE at any time before the Fulbright application deadline. In 2017, the application deadline was 17th of May. In the year before that, it was 11th of May. Since you aren't required to send the official GRE scores before the application deadline, you can actually take the GRE test even one day before the Fulbright and enter the unofficial scores in the test scores section of the application form. Applications submitted near or on the deadline day are not disadvantaged in any way.
Once you have taken the GRE, you will also have to send the scores directly to the USEFP by asking ETS to send a copy to the code 9388. This facility can be availed for free if you send the scores immediately after taking the exam. But if you plan to send your GRE scores after the test day, you'll have to pay an additional 27 USD.
Sometimes the Fulbright scholarship extends the deadline for taking the GRE exam owing to an unavailability of test seats. In that case, if you do not manage to get a test date before the Fulbright deadline, you can also attach the GRE registration slip (which you will get through email after your GRE registration is confirmed) as a proof that you will take the test before the extended deadline ends. Do note that this provision is only available in case there are no test dates available before the application deadline.
Your application to Fulbright will be not be accepted if you don't take the GRE before the Fulbright deadline or at least don't provide the proof of registration, again only in case you can't find any seats before the Fulbright deadline.
It is advised that students should take their GRE exam well before the deadline, so that you have a chance to retake in case you don't get a decent score. In case you opt to take GRE test earlier, you can send your GRE scores even before submitting your application to USEFP.
(It is hard to answer all queries related to GRE and Fulbright in one paragraph since this requirement appears to trouble candidates the most. We have tried answering most queries in detail here)
See Also:
Fulbright Essays
Fulbright requires candidates to write two essays. One of the essays deals with the Study objectives of your degree and the other is the personal statement. As the name suggests, the study objectives essay requires you to clearly define the aims of the program you intend to apply to. However, you can not tell Fulbright to send your admissions to a certain university in the essay even if your objectives resonate with their program since they choose universities for you themselves. There is a separate section for that in the application form.
The other part is the personal statement. A lot of students get this part wrong. Some assume personal statements to be life biographies, listing down every single thing they have achieved, others take it as an opportunity to display their ability to tell a story and while you do need to coherently put the relevant achievements down, you don't need to waste your time writing unnecessary details. Describe what drives you, share your relevant credentials and connect them with your aims. Also, if you have a low GPA, take Personal statement essay as an opportunity to describe the reasons for it.
See also:
How to write a Personal Statement?
Personal Statement and Research Objective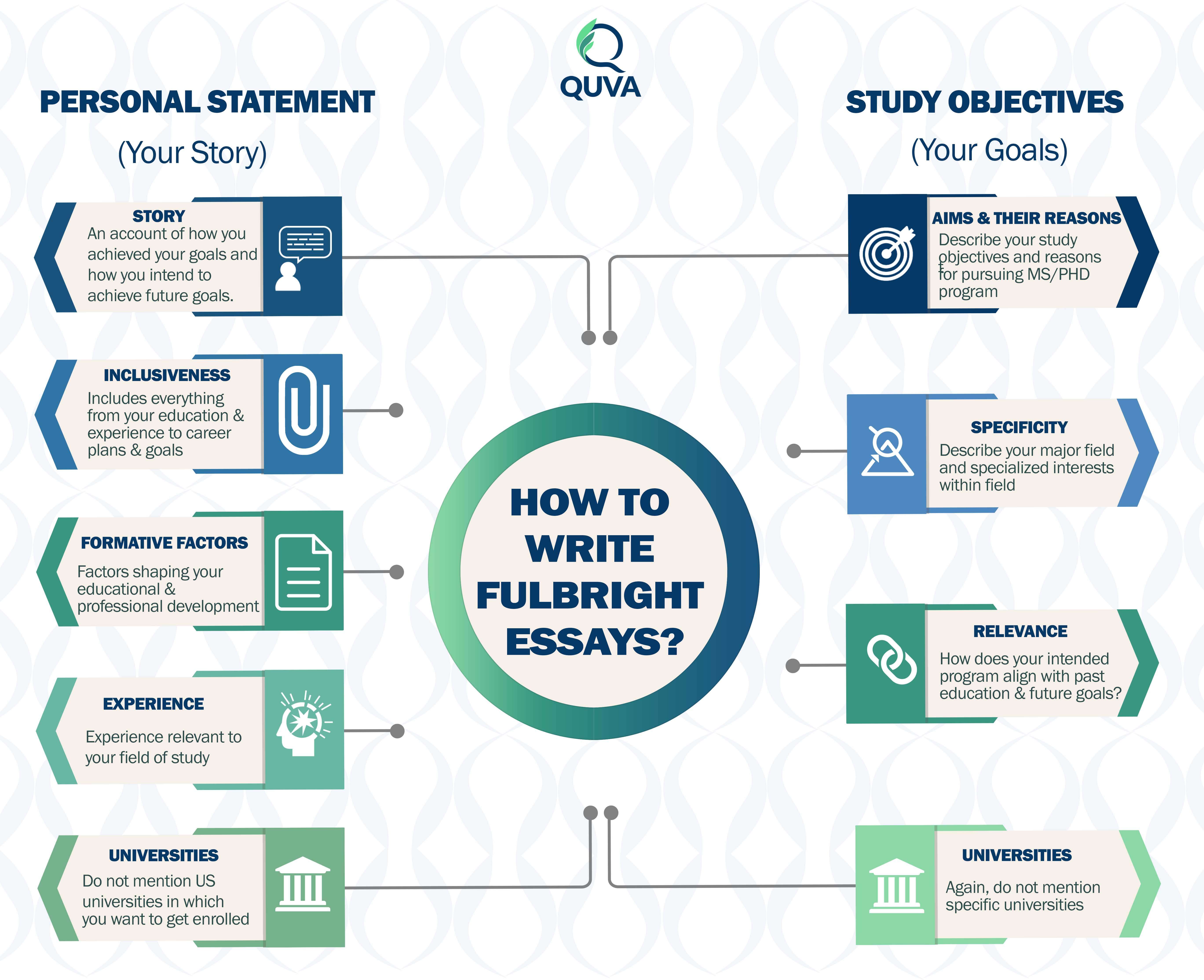 Fulbright Scholarship Recommendation Letters
You need to submit three letters of recommendation (LOR) to complete your application. If you're a final year student, you can attach 3 academic LORs and, ideally, they should be from instructors you have worked with. LORs should be filled with details specific to the student and only an instructor who has worked with you can write such a letter. If you haven't worked with instructors, ask instructors who know you because of your coursework interaction. If you are still a student, engage with them, email them your queries and maintain good relations. A bad LOR is a serious red flag.
If you are a working professional, you may submit one or two work recommendations but you must submit at least one academic recommendation. Professional recommendations, like academic recommendations, should be specific to the person and not general.
See also: How to write a great Letter of Recommendation?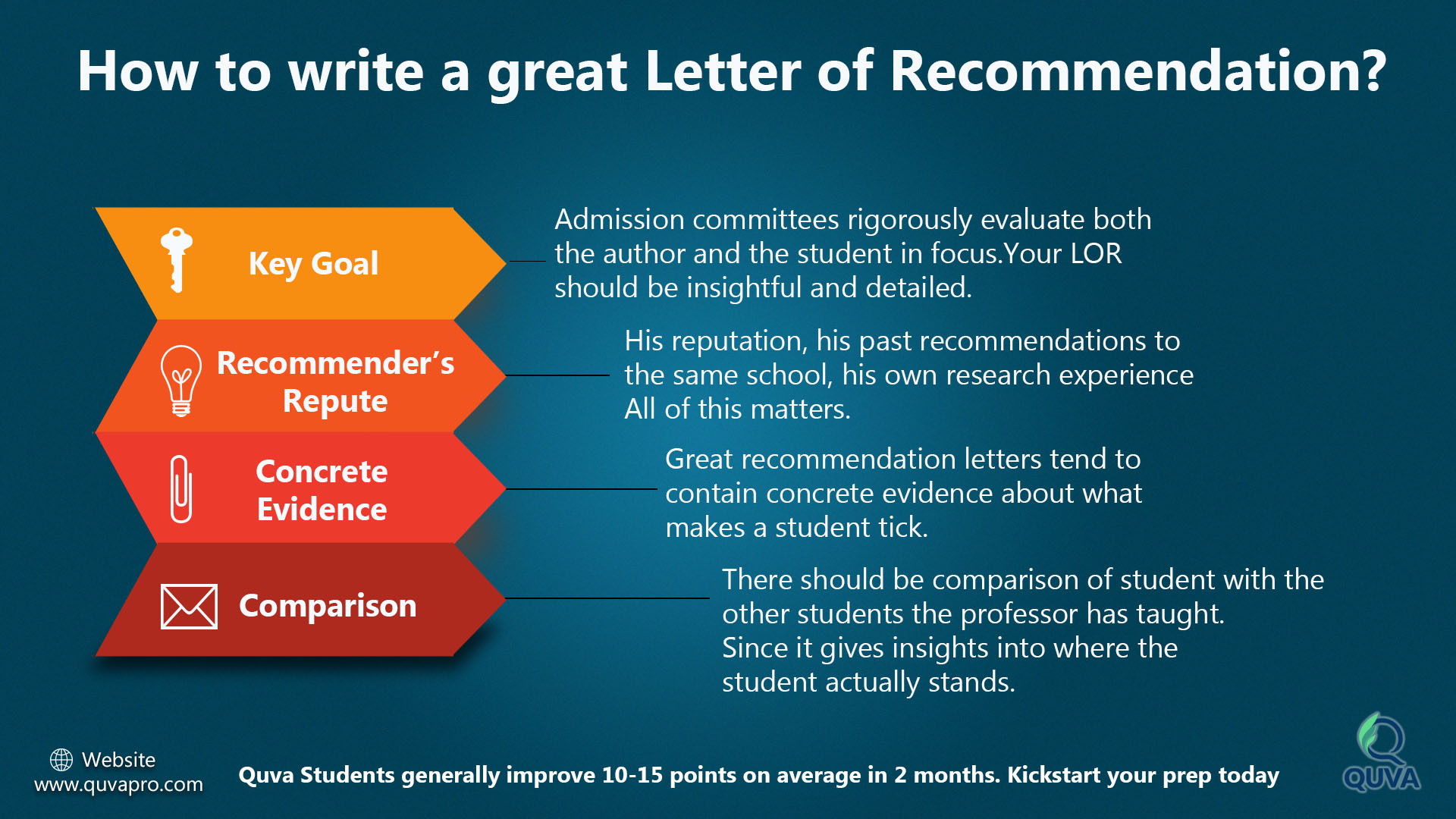 Resume for Fulbright Scholarship
Fulbright Scholarship applicants are required to submit a Curriculum Vitae (CV) or a Professional Resume at the time of application. This resume gives further details about the candidate to the admission committee. Resume is an advertisement of applicant's achievements. Therefore, it should be convincing and attractive.
Like all resumes, there is no hard and fast rule of constructing and writing a resume which will accompany your Fulbright scholarship.
There is no specific format for a resume but one can follow certain guidelines which will enable him/her to write a good resume.
Take Care Of Basic Information
Firstly, list down your education information. Next write about your work experiences. Then make a list of worthwhile projects you have worked upon and write them. Next, write about your philanthropic work, if any, and about your academic achievements. Anything that makes you stand out, make it a part of your resume.
Note: Make sure you know the listed projects in and out. Also, you need to have a proof of every achievement or philanthropic work you are quoting!
Follow A Resume Template
In order to grab the attention of the person reviewing your application, applicants need to make their resume distinctive. Following a unique template will surely be a blessing to the sore eye of the reviewer, who is tired of reviewing simple, uniformly constructed resumes.
Make Use Of Figures
Make use of metrics to describe your performance. It will instantly give the reviewer a better understanding of your work and achievements making the decision process more easy for him/her. An example of it is write what was expected of you and what you achieved.
Give Details About Your Philanthropic Work
Philanthropic Work has a lot of weightage. Explaining a bit about your work will portray a positive image about the applicant in the reviewers mind. Explain what you did and how you contributed towards the society in making it a better place.
Tell That You Are A Community Leader
Discuss in your resume how you contributed towards the community by initiating or handling tasks that led to improvement. Tell the reviewer, how your projects, actions or work has created a positive impact on the people and society as a whole.
Note: Make sure you give real life examples so that they seem credible to the reviewer.
Highlight Keywords
In order to grab the reviewer's attention, highlight the keywords in your resume. Examples of keywords are Leader, Awards, Skills etc. Highlighting keywords helps in creating an image in the reviewer's mind when he/she is skimming through it.
Note: Make sure you highlight words which match your area of expertise you are applying in.
Be Specific And To The Point
Don't add unnecessary details. This is a resume not an essay.
Keep Empty Space To The Minimum
No need to add pages to your resumes adding irrelevant white space and details. As a rule of thumb, if you have less than 5 years of experience, your resume should not exceed 1 page.
All guidelines also come with a list of DON'T!
Here there is a list of DON'TS for your Resume:
Don't Add Personal Information
The contact number, mailing address etc. has already been provided in other forms of Fulbright Scholarship. No need to add it in your resume.
Don't Write An Objective
Objective is just a few lines, clearly telling the person reviewing about how well you can lie. Focus on other details which can be backed by proofs like achievements, awards.
Don't Just List Down Everything
Resume needs to be neatly constructed and organized. Furthermore, it should be easy to read. No one would be interested in reading a long list of bullet points extending to multiple pages. Resume should be precise and organized!
Don't List Down References.
A simple statement "Referrals will be provided upon request" will do. No need to waste precious resume space in listing referrals.
Resume is a Precise Document which should include all your achievements uptill current date. Detailed information has been provided in the personal statement so don't be tempted to add unnecessary details. Keep it simple and neat and you will surely grab the reviewer's attention!
Quva Students improve 10-15 GRE points on average in two months. Kickstart your prep today.