Interested in GRE and Graduate Admission Discussions? Join our facebook group.
When it comes to education, America is the undisputed leader. It is home to some of the best universities in the world and each year the most talented students from around the globe vie for admissions and jobs hoping to live the America dream. In engineering, American universities produce the best research; in architecture, American firms use state of the art machinery to bring to life the most astonishing designs; and in CS, it is home to the Silicon Valley. If you are a Pakistani student, in general you have two ways to make it to those universities; one is applying for a direct admission and the other is aiming for Fulbright scholarships. But which path should you take?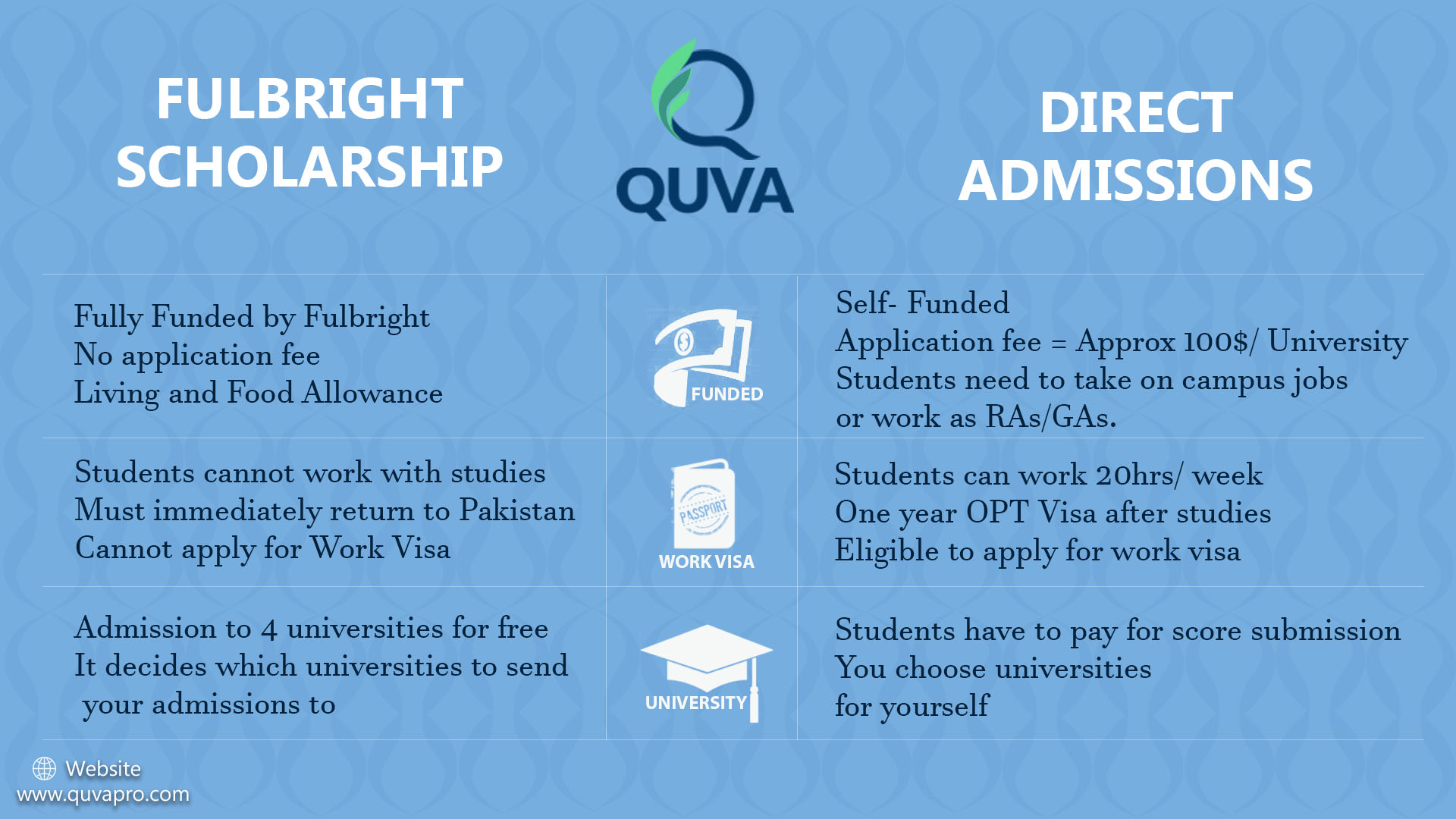 Fulbright Scholarship is a program that allows Pakistani Students to pursue fully funded education in America and while they are in America, it takes care of almost all their needs too. However, the program requires candidates to come back after their degree and serve their own country. On the other hand, candidates who seek direct admission can work in the country for at least one year. Since some students desire international work experience before coming back to serve their own country, they are interested in Direct Admission more, but then they need to pay their fee and manage their applications themselves. There are various aspects to consider and given below is a detailed analysis of the two choices.
See also: Pros and Cons of Fulbright Scholarship
| Fulbright Scholarship | Direct Admission |
| --- | --- |
| Fully Funded by Fulbright | Self- Funded ( Savings- RA/TA ship – On Campus Jobs) |
| Students cannot work with studies on J-1 Visa. | Students can work 20hrs/ week on campus jobs. |
| – Must immediately return to Pakistan | – One year OPT (operational training) Visa after studies in which you can work full time. |
| – Cannot return to U.S. for work for time period equal to the time period of their degree. | – OPT Visa may be renewed for STEM programs for 2 more years if job remains otherwise candidates need to apply for H1-B Visa lottery. |
| – Cannot apply for Work Visa(H1-B) immediately after degree. | – Eligible to apply for work visa (H1-B) after OPT Visa |
| The opportunity to become part of the Global Fulbright Community | |
| No application fee | Application fee = Approx 100$/ University |
| Sends Admission to 4 universities for free, no additional charges for sending GRE/ TOEFL scores | Candidate has to work on each university application separately and pay for score submission charges as well. |
| Fulbright decides which universities to send your admissions to- you inform them of your preference but they may or may not apply to the same universities. | You choose universities for yourself |
| One U.S. to Pakistan free return tickets | Self- funded return tickets only. |
| Living and Food Allowance | Students need to take on campus jobs or research assistantships. |
| Visa Assistance by Fulbright- This is not an official rule but almost all candidates get their Visa. | From what I have seen, Visa is somewhat harder than Fulbright but most candidates get their visa. |
Quva Students improve 10-15 GRE points on average in two months. Kickstart your prep today.