The Fulbright scholarship program, funded chiefly by the US State Department, is the most expansive educational exchange program run by the US. Fulbright programs seek to foster mutual connections between US citizens and citizens of other nations through the relationships built among individuals selected for Fulbright programs. These individuals effectively serve as ambassadors for their home country, representing the best of their people and society. Upon their return home, they become representatives of the experiences they underwent while interacting with American academia and society. Fulbright is administered through various NGOs and governments, and also receives funding contributions from donors, governments and private organizations. Its program in Pakistan, managed through the US Embassy, began in 2005 and hopes to offer 125 Fulbright scholarships in 2019.
ELIGIBILITY:
There is no age limit for Fulbright applicants
You must have completed 16 years (4-year Bachelor's or two-year Bachelor's and two-year Masters) of education to apply for a Master's degree, and a minimum 18 years (including a Master's or M.Phil. Degree) for PhD. Your degrees must be from an accredited university(s).
Students from all fields, particularly from the agriculture, water, energy, health and education sectors, are welcome.
Those with an MBBS degree can apply only for research-centric programs, like Public Health but not in clinical medicine or for a specialization.
Chartered Accountants can only apply if they have equivalency from HEC recognizing their CA certificate as equivalent to an M. Com. degree.
For an MBA program, you require at least 2-3 years of work experience. For a public policy/administration program, you require at least five years of active work experience in public administration and must be a currently non-elected public administration official at the federally, provincially or ideally, local level.
You are ineligible if you:
Have a dual U.S./Pakistan nationality or have a spouse, parent, fiancé or child over 18 years of age who is a U.S. citizen or permanent resident.
Are an employee of the Fulbright organization or the U.S. Department of State or are the spouse, fiancé, sibling, dependent, child or parent of such an employee.
Are an employee of USAID or the HEC and or are the spouse, fiancé, sibling, dependent, child or parent of such an employee, for programs funded by their agencies.
Are currently studying in the U.S. or are on a work/residence visa in any country.
Have a degree from the U.S. within the past 5 years.
Note that priority is given to those who have not studied abroad and have not received a Fulbright grant in the past.
ALLOWANCES:
The Fulbright monthly stipend allows you to easily manage all living expenses and varies between 1000$ and 2500$, according to the living cost of the city you reside in. Fulbright additionally provides allowances for relocation and study materials, allowing you to settle in and begin your studies and research. Fulbright also provides full health insurance.
PLACEMENTS:
Fulbright scholars are sent to a wide variety of universities. Placements depend upon the individuals' credentials and despite the common misconception, not on the cost of the university. Strong applicants do get into top universities like Harvard, Stanford and Columbia, while others are accepted into lesser-known universities like North Carolina Central.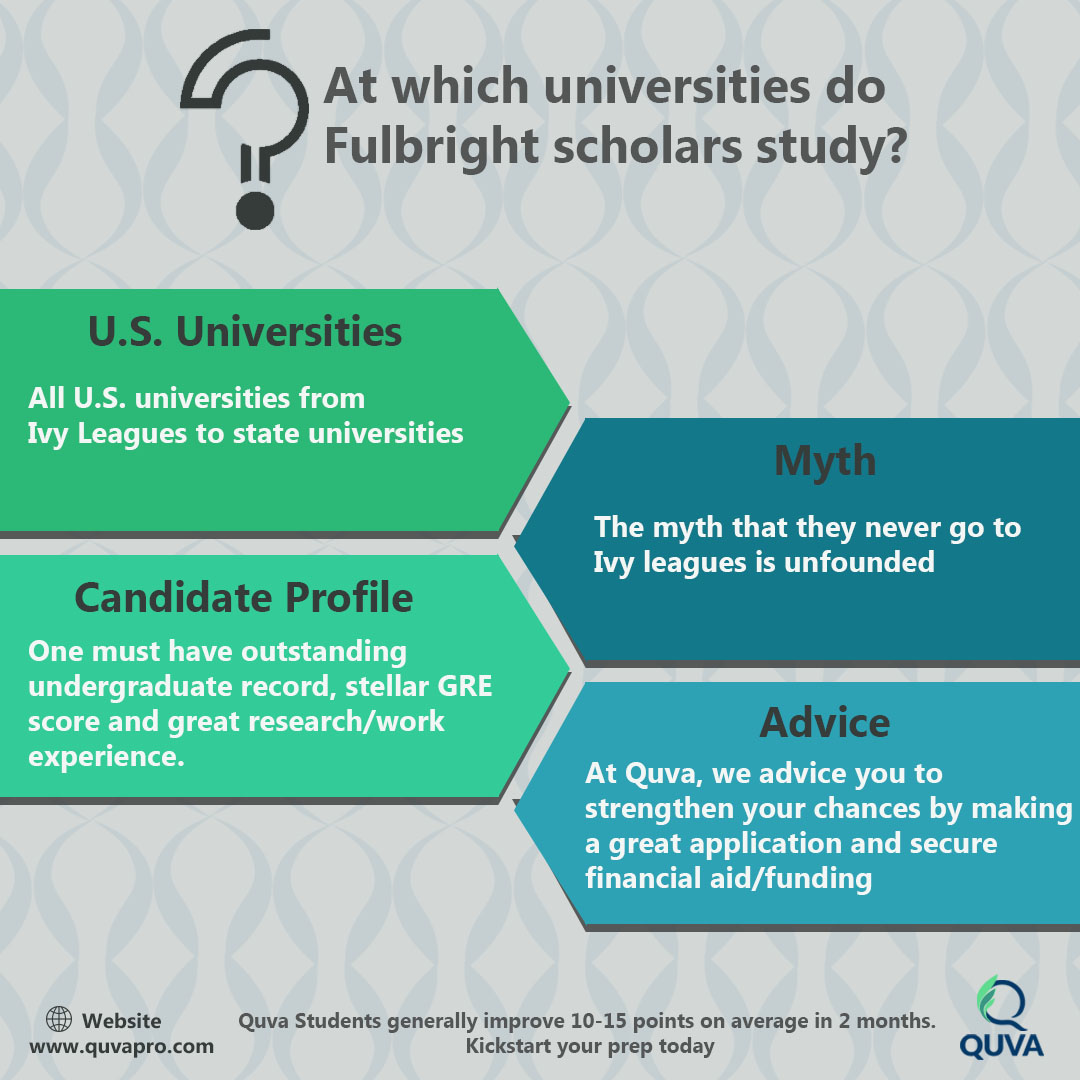 DEADLINES:
The deadline for each cycle is approximately mid-May (e.g. the 2018 deadline was the 16th of May). By this date you need to submit your application form, letters of recommendation, university transcript and your GRE scores. If you apply before the deadline and have not sat for the GRE at the time of submission, you must send your GRE receipt with the application. If you are applying while an undergraduate student, you may send your transcript latest by December of that year. Departures to the US begin from July of the following year.
Step-by-Step guide for applying for Fulbright Scholarship Pakistan
The Fulbright application is relatively uncomplicated. As long as you begin your application in a timely fashion and follow the steps outlined here, you should face little difficulty in completing your Fulbright application.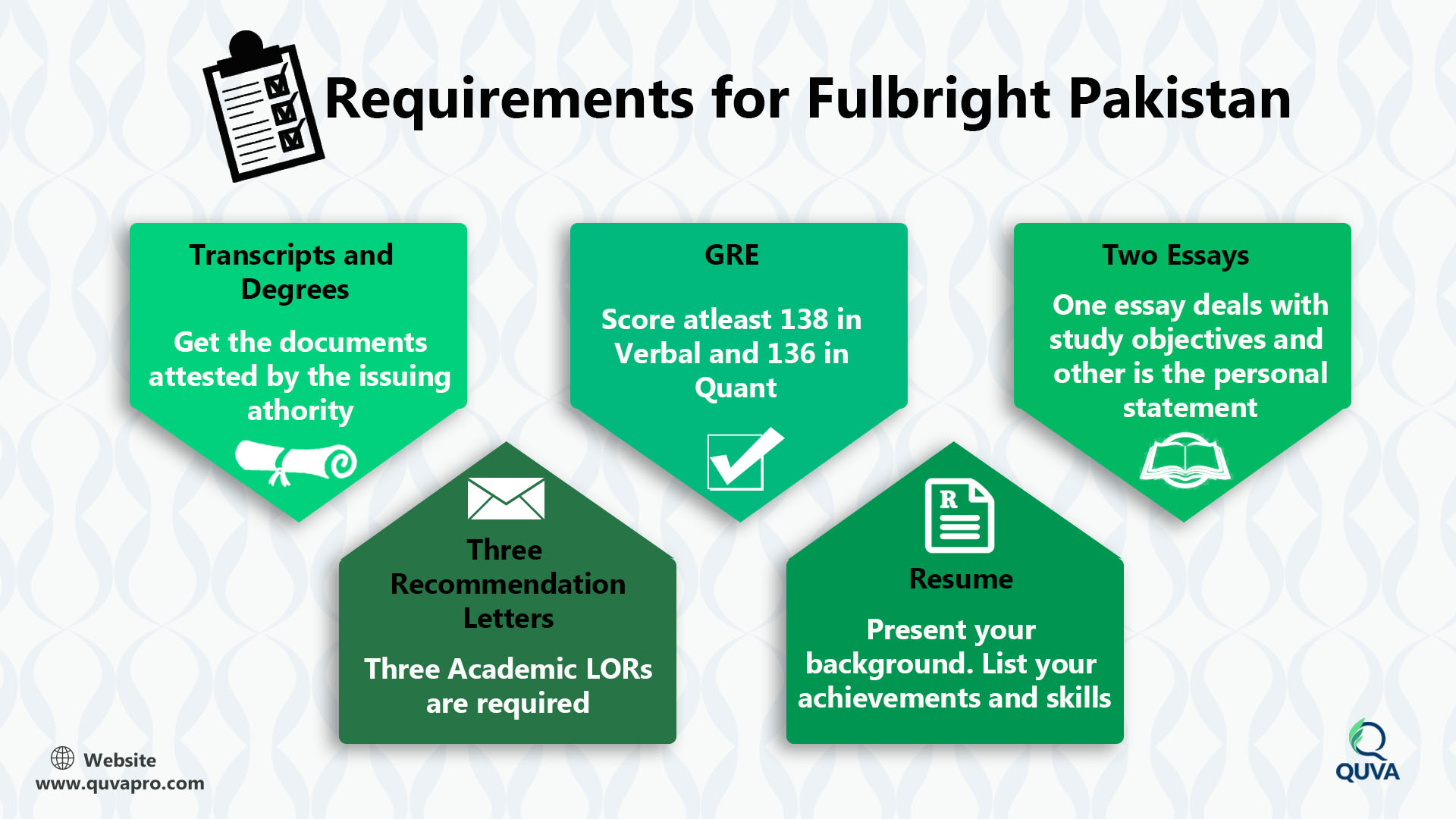 APPLICATION FORM
Access the form through the USEFP website. You will be asked to create an account with your e-mail ID and a confirmation e-mail will be sent to you. Your e-mail ID cannot be changed once the account is made, but you can change your password through the 'update my account' tab. You need not fill the entire form at one time and can save it and return to it at different times. However, no changes can be made to the form once it is submitted. Follow all instructions given on the form and ensure that your text remains within the allotted spaces. All documentation is to be typed and printed in English through a computer. Do not fill anything in all caps.
STANDARDIZED TESTS
GRE scores are valid for five years only. Take your GRE test such that you receive your official scores before the deadline. Indicate on your GRE test form that you wish to send your scores to Fulbright through USEFP by writing the USEFP code 9388 on the test form. TOEFL score are valid for two years and you only need to give it once shortlisted.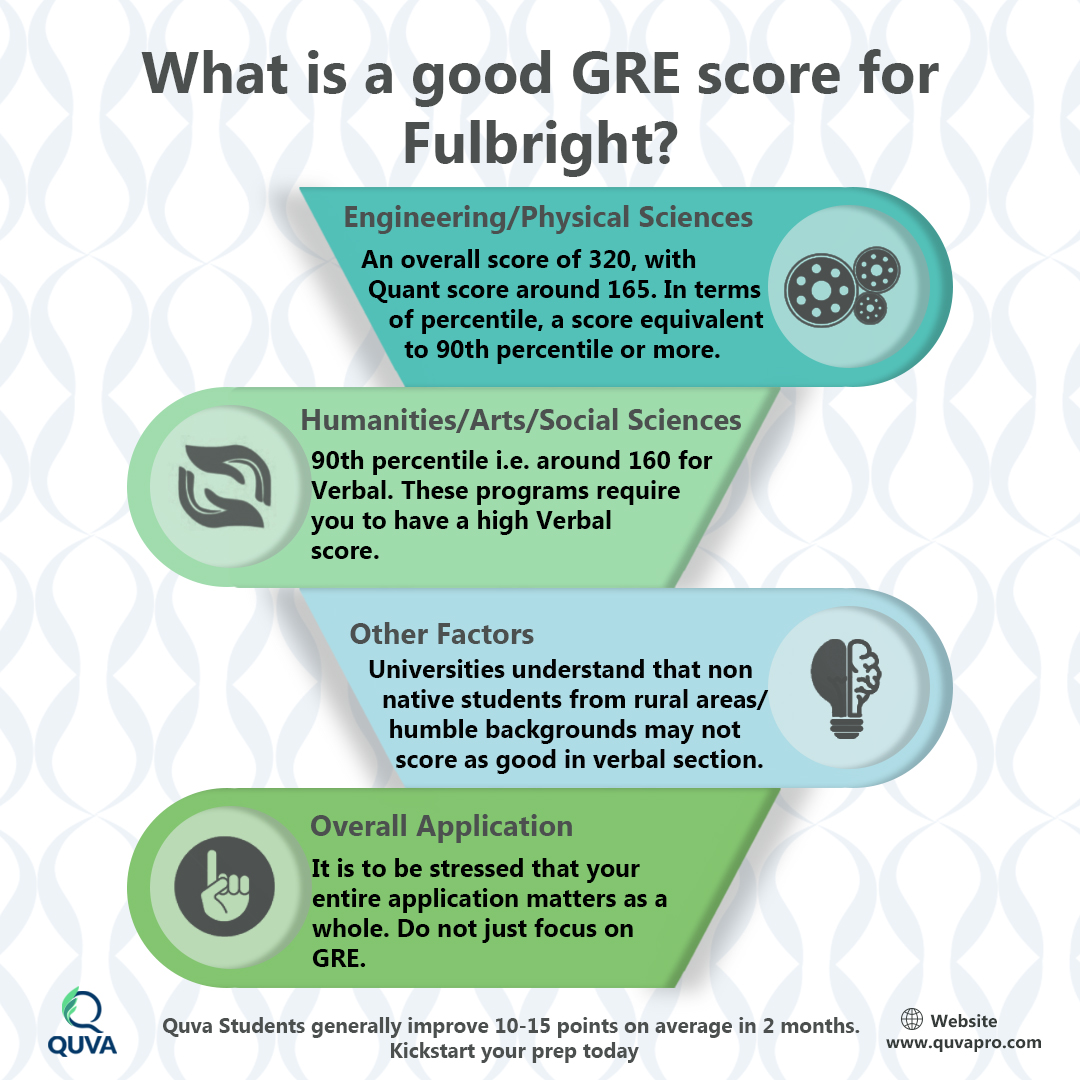 TRANSCRIPTS
You must include all academic transcripts, degrees and certificates of all your postsecondary institutions, including those that you did not receive a degree/diploma from. It is preferred that these institutions directly send your transcripts to USEFP. Alternatively, you can send copies attested by the respective institutions with your application. These transcripts should detail all your university subjects and corresponding grades. HEC attestation is only required once shortlisted.
LETTERS OF RECOMMENDATION
You have to select the Recommendation tab on the Home page of the application in order to register your referees in addition to including their names on the application form in the designated section.
You can access these letters even after submitting the online form. You can print out the forms and hand them to your referees who can then mail them to USEFP. Alternatively, an automatic email will be generated and sent to your referees upon the submission of your form and your referees can then submit the letters online before the stipulated deadline.
These letters are vital in showcasing your merit and abilities and should be filled out by individuals whom you have studied, done research or worked under. At least one of the letters must be academic and one must be regarding your professional work.
Additionally, you must also prepare your complete CV/Resume and attach it with your application. Apply for your Pakistani passport as soon as you can if you do not already possess one. All documentation must be mailed to USEFP head office in Islamabad (P.O Box 1128, Islamabad). There is no application fee. If any documents are in a language other than English, you must include those along with their complete official English translations. You must follow the stipulated mid-May deadline at all costs. This is the deadline for all your documents.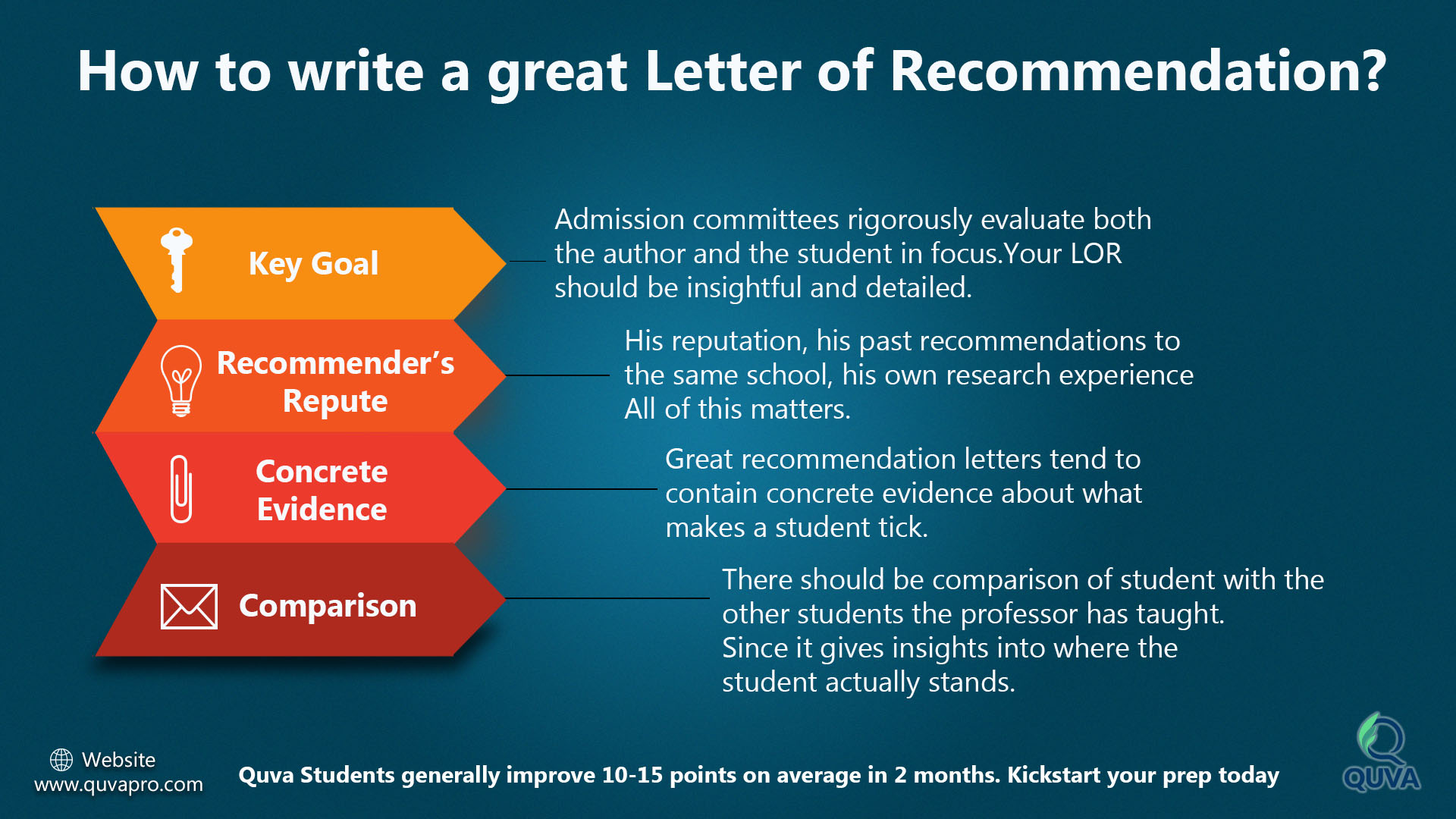 Values Scholarships such as Fulbright look for in candidates.
Fulbright was founded and continues to work with the goal of creating an ethos of commitment, communication and openness in the world through its participants. It aims to find leaders who can come together to find solutions to the problems that affect us all. Fulbright hopes to foster togetherness and mutual understanding between people of different nations and to provide industrious individuals the platform to showcase their abilities and their vision for the world. Some key qualities that a successful Fulbrighter typically possesses are:
AN INDUSTRIOUS WORK ETHIC
Fulbright's high academic requirements generous scholarships to those with high levels of merit suggest that it aims to reward capable individuals who may not have had access to top-notch education otherwise. Hence Fulbright emphasizes not only a very strong academic background but a dedicated and professional work ethic that may be evident in your work related and other experiences. Fulbright seeks candidates who are highly capable and possess immense knowledge and expertise with regard to their field; knowledge that makes them stand head and shoulders above the rest. Applicants must not only maintain diligence and proficiency in all that they do but must also showcase this in their application, through academics and otherwise.
CLARITY OF VISION
Successful Fulbrighters are clear on what they expect of themselves and what their aspirations are. To create the impact that Fulbright hopes to, it demands that its participants are set on their vision for where they see themselves in the near and distant future and how exactly they plan to affect the world around them. Your application must underline your commitment to a cause or goal that you have set out. Let your essays in particular highlight specifically what you intend to do with the degree you shall obtain and describe how certain work experiences have helped you move towards those final goals. This does not suggest that you do not explore new avenues while studying. Even if you are somewhat unclear on practical specifics while applying, be decided on what and how you hope to learn, work and impact the world.
A COMMITMENT TO IMPACTING
Applicants must showcase their willingness to create a better and more prosperous world in any and every way they can. Fulbright looks favorably on those who have engaged in social work and have improved the lives of those around them. Describe how you believe your degree will help you create change, directly or indirectly, for those who need it most.
A WILLINGNESS TO COMMUNICATE:
Fulbright believes cross-cultural exchange is vital for constructing a more prosperous Global Village. This exchange takes place when participants arrive in the USA and readily communicate with the colleagues and instructors they meet along the way. Hence, Fulbrighters must be ambassadors for their country and culture, telling their new colleagues all about life back home and must share their experiences in the US when they return to their country.
A DESIRE TO COLLABORATE, LEAD AND SOLVE
Fulbright hopes to train leaders who are keen to work together with different citizens across the globe to find solutions to the world's problems. Applicants must use the vast knowledge they gain and utilize it in the practical world, such that they contribute to making the world a better place for all. The program believes that this requires fostering camaraderie and togetherness between diverse groups of students who can draw on their different experiences and expertise and work together. Fulbright seeks candidates who can demonstrate in their applications and interviews that they are keen to engage in dialogue and discussion with the individuals they come across. Fulbrighters must possess great leadership potential that can help galvanize people into action and mold people into efficient teams.